N72PE - KFXE to CVO
In December 2017 the OSFC purchased a new to them, 1997 Cessna 172 airplane. This new airplane was chosen only after much research, OSFC board input, and direction. N72PE is a technically advanced aircraft, and one that is pilot and eco-friendly. N72PE is equipped with the Garmin G500 primary flight display system, the new touch screen Garmin GTN-750 GPS, and a single axis auto pilot.
N72PE was converted from having Lycoming IO-360 low-lead 100 avgas engine to a Continental diesel with a FADEC system. The FADEC which stands for Full Authority Digital Engine Control is unique in that it has one power lever that controls the air to fuel mixture, constant speed propeller, and power setting. Instead of burning 7 to 9 gallons of avgas an hour the diesel is only burning 4.5 in cruise and 7 gallons an hour at full power of JET-A, which is cheaper to purchase than avgas and better for the environment.
Bob Parrott and Cody Gustafson both who are CFI's flew commercial airlines from PDX to Ft. Lauderdale Fl. to ferry the clubs new Cessna 172 back to Oregon on January 2, 2018.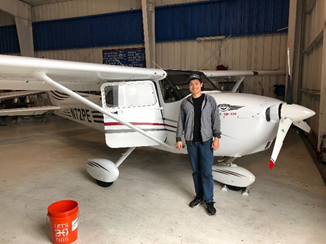 Cody Gustafson at Premier Aircraft KFXE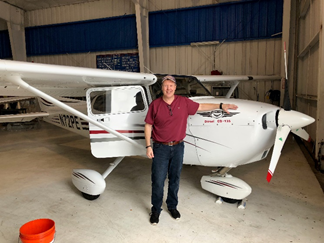 Bob Parrott at Premier Aircraft KFXE
They had VFR weather for their entire trip back to KCVO. Here is a list of the airports that they stopped with some interesting notes of events along the way.
Jan 2, Departed KFXE to KGZH 5.1 hours - Best price on JET-A: $2.97 a gallon
Jan 3, KGZH to KJVW - 2.7 hours - Unplanned stop due to FADEC A light flashing.
Jan 4, KJVW-KCQF - 2.6 hours to where Continental Motors is located to inspect FADEC light.
Jan 5, KCQF-KHEZ - 4.7 hours - Welcome to Mississippi
Jan 5, KHEZ-KTKI - 4.7 hours - Texas
Jan 6, KTKI-KCNM - 4.7 hours - Are we still in Texas?
Jan 6, KCNM-E60 - 4.4 hours Cody's comment "There is a whole lot of nothing out here"
Jan 6, E60-KPSP - 3.5 hours - Welcome to California
Jan 7, KPSP-KRDD - 5.0 hours At Atlantic Flight had a G5, Falcon, and Citation X pilots watching us get JET-A full and then wanting to hear the engine run.
Jan 8, KRDD-KCVO - 2.6 hours Good to be home.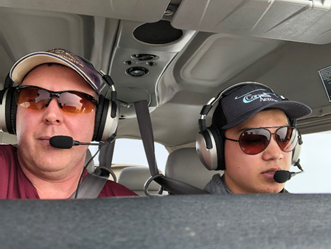 Cody and Bob flying N72PE